La difference, c'est bien (Paperback)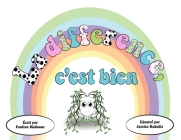 $9.99

Usually Ships in 1-5 Days
Description
---
Did you know that approximately 1 in 70 people are on the Autism Spectrum? Increasingly in classrooms, neurotypical students are encountering peers who are displaying unfamiliar behaviours, resulting in questions at best, and bullying at worst.
With this is mind, "Different is Ok", a picture book addressing the increasing need to acknowledge and accept diversity among us in a way that even the youngest students can understand, was born.
While the focus of Different is Ok is primarily on the neurodiversity of people on the Autism Spectrum, the bright images depict many kinds of difference with the hope of encouraging discussion and acceptance of difference without dealing with the intricacies of the Spectrum or any other labels.
Different is Ok simply acknowledges and appreciates that we are all different, we all have varying preferences and most
importantly, it helps us remember that we should be celebrating the differences which make us unique.
Book Clubs - Upcoming Dates
Please check back. We will be announcing the dates and times in the near future.